A STIGMA is defined as a "mark of disgrace" but there is nothing disgraceful about taking care of your mental health. As of 2019, suicide remained the 2nd leading cause of death of youth and young adults ages 10-24 in New Hampshire. According to the NH Department of Health and Human Services (DHHS), suicide deaths among youth in the state have been declining in recent years, highlighting how we need to continue helping our kids learn how to discuss this difficult topic so we can keep the trend going down.
One way Connor's Climb Foundation works to alleviate the stigma surrounding mental health is by working with community members (that's you!) to host #StickItToStigma sports games. There are many options, including hockey games, lacrosse games, field hockey games, nearly any sporting event that you can imagine. To help facilitate planning, we offer a GAME PLAN that includes team and community training options, ideas on how to promote your event on social media, and a timeline for planning your event. Contact Us to learn more and request a GAME PLAN today!
The goals of Stick it to Stigma are:
Create a positive and open environment where kids see that it is OK to talk about mental health and suicide thereby reducing the STIGMA surrounding it. Talking about suicide does NOT cause it!
Listen to your friend. Don't ignore threats they make about themselves or others
Let your friend know that you care about his/her safety.
Tell: Tell a trusted adult that you are worried about your friend. Some secrets SHOULD be shared!
Ready to stick it to stigma yourself? Our toolkit provides detailed information to help you host your own game!

Inside, you'll find training options for your team, parents, and coaches, information on the types of resources and swag we can provide for your event, and even ideas on how to advertise your game to maximize participation! You'll also find contact info for our helpful staff, who would be happy to assist you with customizing your game and tailoring training to meet your needs. 
Click the document preview to the right to download a copy of the toolkit and get started today!
HOW WE'VE BEEN STICKING IT TO STIGMA:
For years Connor's Climb Foundation has helped schools, recreational teams, and community orgs encourage positive team-building, prevention education, and stigma reduction through our Stick it to Stigma games. We have worked with hundreds of athletes and their coaches, families, and friends to highlight the importance of mental health through these events. Take a look at some of our recent Stick it to Stigma games, PSAs, and other community events for ideas about how your own game could look! 
2023 Exeter Girl's Hockey Team Stick it to Stigma Game
2023 SNHU Men's Hockey Team Stick it to Stigma Game
2023 UNH Stick it to Stigma Hockey Double-Header
2023 Berwick Boy's Hockey Team Stick it to Stigma Game
2023 Berwick Girl's Hockey Team Stick it to Stigma Game
2022 UNH Women's Club Hockey Team Stick it to Stigma Game
Now more than ever, it is critical to talk about mental health with our youth. We know that young people listen to other young people, so in 2020, we asked some of our favorite hockey teams to create Public Service Announcement (PSA) videos to help us spread the word that it is OK to talk about mental health!
Want to help #Stick it to Stigma and let your friends know that it is OK to not be OK?
Get together with your team and create a PSA video!
We're PASSING THE PUCK TO YOU!
Stick it to Stigma: Not Just For Hockey Players
In September of 2020, Connor's Climb was proud to take part in the Strong Youth Strong Communities (SYSC) Virtual Summit for New Hampshire Youth presented by Centene and the Pro Football Hall of Fame. Fellow mental health advocate, Ryan Day, Head Coach of the Ohio State Football Team, presented a message on our behalf.
Watch the video with Ryan and the other famous figures HERE!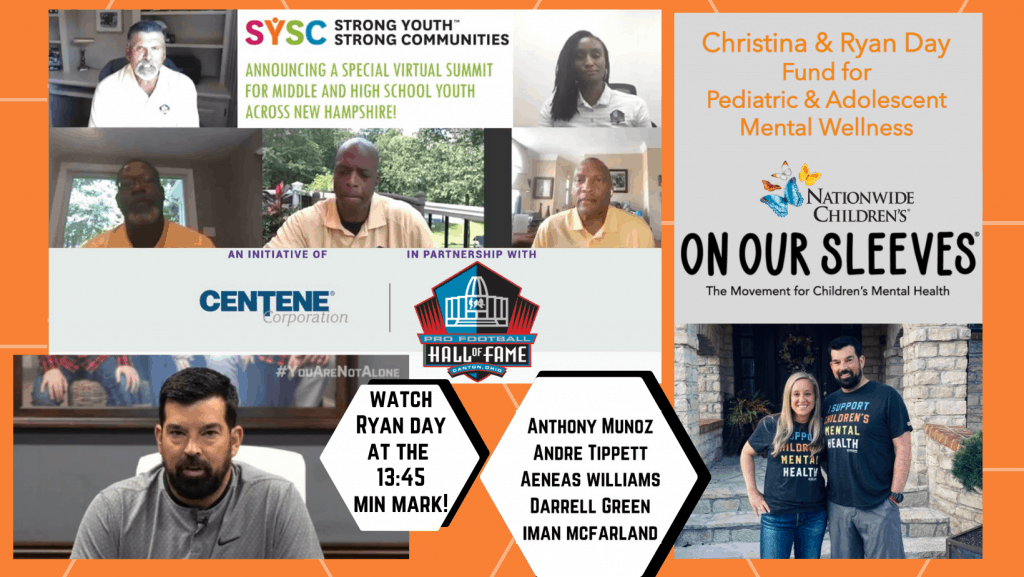 Be sure to also check out the Ryan and Christina Day Fund and the #OnOurSleeves Movement with Nationwide Children's Hospital. They're doing great work for children's mental health awareness!